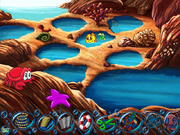 The Tide Pools are of the locations in Freddi Fish 2: The Case of the Haunted Schoolhouse.
This location is to the northwest of the school. You need it to go to the other side if you need to get purple sea urchins (one of them is on a rock cliff) and/or go to Mr. Triplefin to get the combination to the lock.
To do that you should click the nearest pool to ask Freddi and Luther to jump there. If it's too far, they won't be able to do it. If you don't want to spend time clicking the tide pools, just click the faraway side, and fish will reach it jumping to the pools in sequence.
Ad blocker interference detected!
Wikia is a free-to-use site that makes money from advertising. We have a modified experience for viewers using ad blockers

Wikia is not accessible if you've made further modifications. Remove the custom ad blocker rule(s) and the page will load as expected.