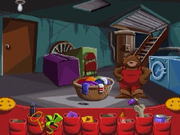 The Utility Room is a location in Fatty Bear's Birthday Surprise.
Fatty Bear can only enter here through the laundry chute in the bathroom. When he first enters here, he finds the garage door opener after it came out of the laundry basket.
Ad blocker interference detected!
Wikia is a free-to-use site that makes money from advertising. We have a modified experience for viewers using ad blockers

Wikia is not accessible if you've made further modifications. Remove the custom ad blocker rule(s) and the page will load as expected.