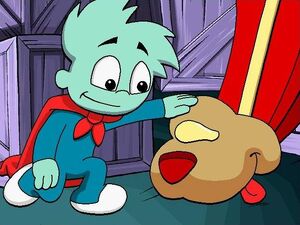 The vacuum is a dog-like vaccum cleaner in Pajama Sam 2: Thunder and Lightning Aren't So Frightening. In the game, Pajama Sam must use the bag of soil he finds at the weather making shed to attract the Vacuum to the rooftop to suck up the Tornado that is stopping the Automated Snowflake Inspector from leaving.
Ad blocker interference detected!
Wikia is a free-to-use site that makes money from advertising. We have a modified experience for viewers using ad blockers

Wikia is not accessible if you've made further modifications. Remove the custom ad blocker rule(s) and the page will load as expected.